Best "Smart" & Wireless Security Cameras of 2019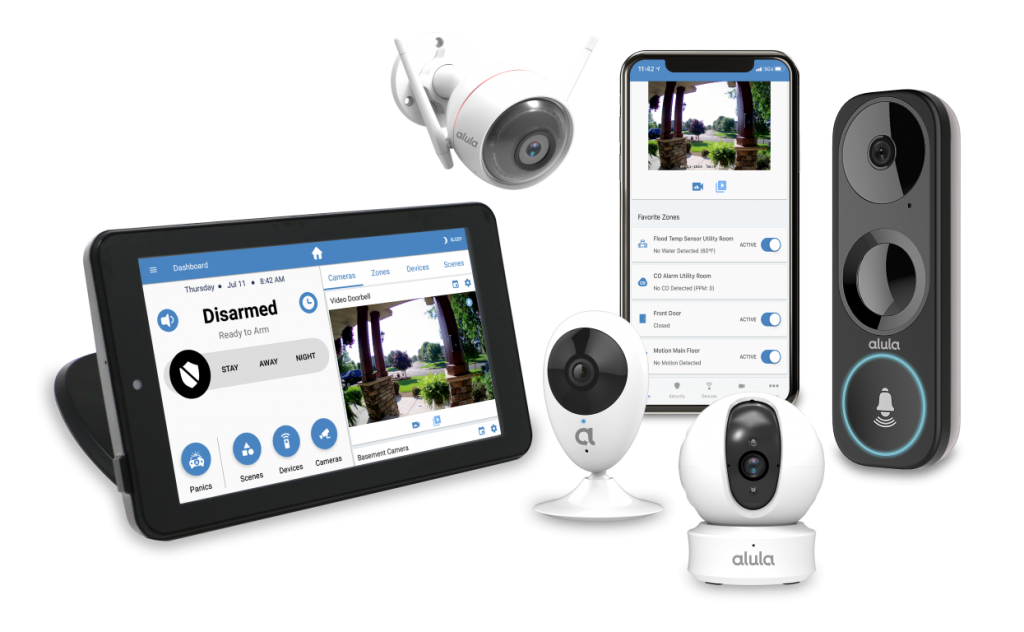 Best "Smart" & Wireless Security Cameras of 2019
Building security is one of the most pressing concerns for anyone who owns a home or business. With new advancements in technology, it's easier than ever to keep tabs on things remotely when you're out of town, at work, or even out running errands.
These easy to install security cameras offer helpful features that allow you to view live video and video clips and send out notifications when there is suspicious activity as determined via motion and sound detection. Keep reading to learn more about the best security cameras available to you for both indoor and outdoor use.
Lyric C1 Indoor Wi-Fi Security Camera
This indoor Wi-Fi camera has a view angle of 135 degrees, making it ideal for corner placement in a room. View a live feed of the footage from anywhere in the world on your phone or tablet with the help of the Total Connect app. The camera sends notifications immediately when a suspicious activity has been detected.
To prevent you from being bombarded by false positives caused by squirrels, birds, or pets, the Lyric C1 determines if a sound or movement is unusual. This smart camera can be programmed to recognize certain sounds. Alarms for smoke detection, carbon monoxide detection, and other things can be designated as high priority sounds that will send alerts to you immediately.
The Lyric C1 keeps your footage secured with a backup SD card, saving up to eight GB of footage in the event of a Wi-Fi or power outage. The purchase of a camera also gives you access to free cloud storage that holds all video clips for 24 hours.
Lyric C2 Indoor Wi-Fi Security Camera
This camera has all the great features of the Lyric C1 and offers some more advanced features too. It has a slightly wider view of 145 degrees, capturing a full view of the room. It also has very clear, high-definition footage, as guaranteed by:
1080p camera resolution
A frame rate of 30 frames per second for a smooth viewing
Zoom in on footage up to six times
Go green and save money on power with the app, which can track your movement and automatically turn on the camera once you leave the area and turn the camera back off when you return to your home or the building. The automation means you don't have to worry about switching the cameras on and off to make sure they will be working when you need them.
Another exciting Lyric C2 feature is the two-way audio option, which allows you to be heard in the room just as you hear the audio from the installation site. This option is ideal for those with children, spouses, or others who will be at home alone and might want to hear some updates on what the camera has picked up.
Lyric WOC1 Outdoor Wi-Fi Bullet Camera
For complete building safety, outdoor monitoring is a must. The Lyric WOC1 outdoor Wi-Fi camera gives you extra assurance that a building is secured since you can watch people's interactions with it from outside. It may also alert you to maintenance concerns that might otherwise go unnoticed for longer.
Stay aware even at night with the camera's infrared LEDs for night vision capabilities. They can see up to 65 feet away in the dark, giving you a comfortable radius around the building. The resolution is 1080p, and the camera offers to zoom up to ten times so you can look at close-up details. The app offers all the same remote viewing and activation options as the other cameras.
Alula Connect+
The Alula Video on the Alula Connect+ is the perfect integration between security, automation, and video in an interface that provides control of smart home devices. This Smart Home Security Camera comes equipped with a Video Doorbell, Indoor Mini Camera, Indoor 360 Camera, and Outdoor Bullet Camera.
Customers receive security unlike any other with the Alula Connect+. The Alula App also provides even more security measures, as you can check in through the app on what is occurring at your home.
Floyd Total Security offers professional installation services for Wi-Fi security cameras. Our technicians can solve any installation problem, and connect the cameras to any existing security system in your building. Contact us today to get started setting up your home or business with a complete and smooth-functioning security system that keeps you updated even when you are far from the area.
Image Credit: Shutterstock/Alliance Images